Key Data:
Current Lumber Price: $508.50 per thousand board feet, reflecting a 1.60% increase.
Price Trend: The price has risen by 2.42% in the last year but has decreased by 16.64% since September 2022.
Lumber prices have recently dipped, nearing the $500 per thousand feet mark, marking their lowest point since mid-August. This decline can be attributed to signs of a slowdown in demand.
Notably, data from the second quarter revealed a significant decrease in softwood lumber imports from Europe to the United States, amounting to 428 million board feet (mmbf).
This represents a notable 30% drop from the record-setting volume of 610 mmbf in the first quarter and a 12% decline compared to the same period in the previous year.
Experts anticipate that European exports to the U.S. will continue on a downward trajectory throughout at least the third quarter, falling short of the previous year's record levels.
This is attributed to factors such as elevated interest rates and reduced production in Europe.
Additionally, North American exports to overseas markets continue to exhibit weaknesses, largely due to lackluster demand in significant markets.
Furthermore, concerns persist about a constrained supply due to the impact of Canadian wildfires. It's worth noting that historically, lumber reached an all-time high of 1711.20 in May 2021.
Forecast
According to Trading Economics' macro models and analysts' expectations, the projected price of lumber is anticipated to be 483.46 USD/1000 board feet at the end of the current quarter. Looking ahead, the estimated price is expected to reach 419.65 in 12 months.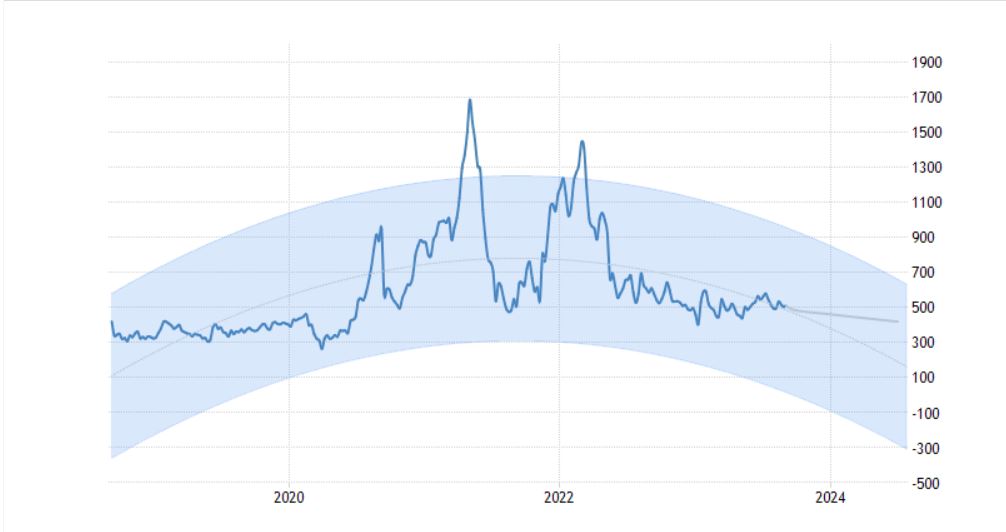 Historical Lumber Forecast Results
In May 2021, Lumber reached its highest point ever at 1711.20. The data, forecasts, and historical chart for Lumber were last updated in September 2023.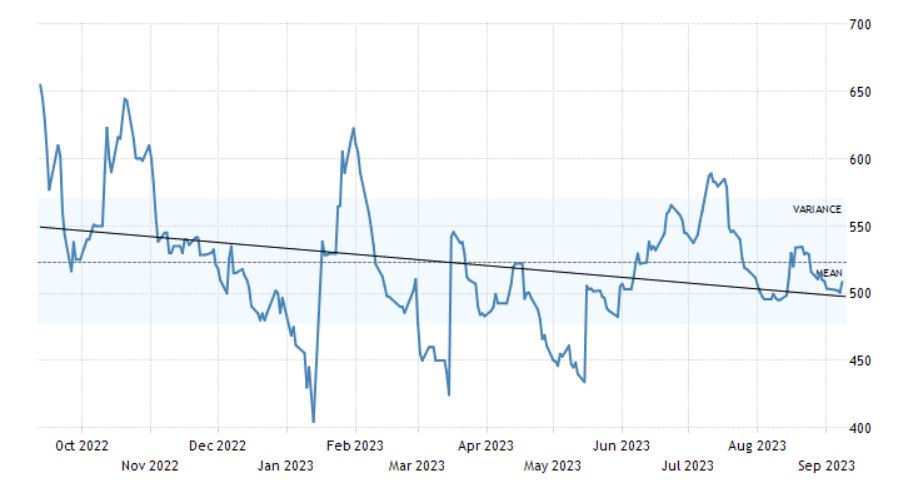 Context: Lumber, a processed form of wood used in beams and planks, is primarily produced in the Baltic Sea region and North America. The futures contract for lumber traded on the Chicago Mercantile Exchange specifies that the lumber must originate from specific U.S. states and Canadian provinces.
Click to view The Working Forest Lumber Forecast Per August 2023