We humans love to connect and commemorate through trees. It seems our biggest fear is for one of us, or our one of our experiences to be forgotten. Since trees are one of the longest living testaments to time, they mark new beginnings or stand as testaments to events.
As part of the Apollo 14 mission (January 31, 1971–February 9, 1971), 500 seeds from five species of trees (loblolly pine, sycamore, sweetgum, redwood, and Douglas fir) were sent into space! The Moon Tree concept was the idea of Ed Cliff, chief of the Forest Service. Stan Krugman of the Forest Service selected the species and seeds for the experiment.
The Moon Trees were meant to serve as living symbols of the space program and a testament to the resilience and adaptability of life. They also served as a way to engage the public and generate interest in science and space exploration.
Where are they now? Did they reach the goal more than 30 years later?
Moon Trees: The Backstory
The Moon Tree Program is a project initiated by NASA in the 1970s during the Apollo era. The program aimed to grow trees from seeds that have been taken to space and then planted on Earth as a symbol of the connection between space exploration and the environment.
When astronauts embarked on missions to the moon, they carried tree seeds along as part of their experiments. These seeds experienced the harsh conditions of outer space, enduring zero gravity and exposure to cosmic radiation.
In the original Apollo 14 mission, seeds from loblolly pine, American sycamore, sweet gum, Douglas-fir, and coast redwood were taken to the Moon and then returned to Earth. These seeds were subsequently germinated and planted, resulting in "Moon Trees" that have grown in various locations around the world.
NASA has revived the Moon Tree Program and has sent 1000 seeds from five species (loblolly pine, American sycamore, sweet gum, Douglas-fir, and giant sequoia) aboard the Artemis I Mission (November 16–December 11, 2022). Four of the five species are the same as from the Apollo 14 Mission, with coast redwood being replaced by giant sequoia on the Artemis I Mission.
With the revival of the Moon Tree Program, NASA has chosen to send seeds from the giant sequoia which replaces coast redwood, likely due to availability or specific scientific goals. These seeds are exposed to the lunar environment during the mission and then brought back to Earth for germination and planting.
Collaboration between NASA and the US Forest Service
As part of their mission to explore new frontiers, NASA conducted experiments involving tree seeds during lunar missions. These seeds were then returned to Earth for further study.
This collaborative effort holds great importance for environmental conservation. By studying how these moon trees thrive on Earth, scientists can gain insights into enhancing reforestation efforts and preserving biodiversity.
Returning Moon Tree Seeds to Earth
The Forest Service joined forces in a unique collaboration with NASA and followed through with the experiments. After their journey to space, some tree seeds were brought back.
Back to earth, scientists eagerly began studying these moon tree seeds alongside their terrestrial counterparts. By comparing the growth patterns and characteristics of both sets of seeds, researchers gained valuable knowledge about the impact of space travel on plant biology.
They compared:
Growth

: By planting both the moon tree seeds and regular terrestrial ones in controlled environments, scientists observed any differences in growth rates and overall development between the two groups.

Genetic Analysis

: Researchers conducted genetic analyses on the moon tree seeds to identify any alterations caused by exposure to cosmic radiation or other space-related factors.

Adaptation Mechanisms

: The study also focused on understanding how plants adapt to extreme conditions encountered during space travel by examining changes at a molecular level within

the moon tree seedlings.

Examples of "Moon Trees" from left to right, a sycamore in Atchinson, Kansas; a sycamore in Greenbelt, Maryland; a sycamore in King of Prussia, Pennsylvania; and a redwood in Monterey, California. Image credit: NASA
Distribution of Moon Tree Seedlings
Once germinated, the Moon Tree seedlings were distributed across various locations in the United States. Each state received at least one seedling for planting purposes. This widespread distribution ensures that people from different regions can experience these unique trees.
The distribution of Moon Tree seedlings allowed for their presence in multiple locations throughout the country. Seedlings were carefully allocated to ensure that each state had the opportunity to plant and nurture a Moon Tree.
The distribution process aimed to make these extraordinary trees accessible to as many people as possible. It fostered a sense of connection and wonder among individuals from all walks of life, regardless of their geographical location.
The Roosa Redwood
One Moon Tree that stands out is the Roosa Redwood. In 1971, astronaut Stuart Roosa took some tree seeds with him on a journey to the moon. The Roosa Redwood is one of those trees that sprouted from those very same moon seeds. It's like having a little piece of outer space right here on our planet.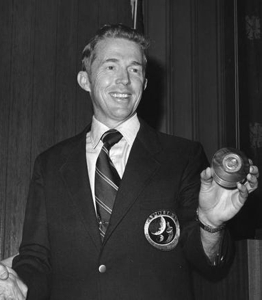 Stuart Roosa holding the canister containing the tree seeds / Michael Collins' PPK at NASM
One Moon Tree that stands out is the Roosa Redwood. In 1971, astronaut Stuart Roosa took some tree seeds with him on a journey to the moon. The Roosa Redwood is one of those trees that sprouted from those very same moon seeds. It's like having a little piece of outer space right here on our planet.
The Roosa Redwood, also known as the Moon Tree, is a unique and fascinating specimen. It carries a remarkable story that connects it to the Apollo 14 mission and the vastness of space.
During the Apollo 14 mission in 1971, Stuart Roosa, a former U.S. Forest Service smokejumper and astronaut, was part of the three-man crew that traveled to the moon. As a tribute to his previous career, Roosa carried a small canister containing hundreds of tree seeds in his personal kit during the mission. The seeds he carried traveled 238,000 miles to the moon and back.
The Roosa Redwood, a coast redwood (Sequoia sempervirens), was planted in Washington Square Park in Philadelphia in 1975. The Roosa Redwood has grown into a magnificent tree, reaching heights of over 100 feet.
Availability of Moon Tree Seedlings to the Public
In the interest of spreading the missions goals, NASA and the Forest Service made some first gen and second gen moon tree seeds available to the public.
Nurseries and growers were able to produce second generation seeds from the original seeds, saplings and/or grafts. If you would like to own a piece of space history. certain nurseries sell them. Availability depends on demand and location, so it may vary from one nursery to another.
Did you know that second generation moon trees are called "half-moon" trees? They have been planted from seeds or cuttings from an original Moon Tree and are thriving as well.
Moon Tree Foundation and US Forest Service Initiatives
The Moon Tree Foundation, in collaboration with the US Forest Service, is actively involved in promoting the preservation and planting of Moon Trees. As part of their quest to preserve these unique trees, they have partnered with Globe Observer to gather data on the health and growth of Moon Trees.
The US Forest Service has been instrumental in supporting initiatives related to tree height observations. They provide expertise and resources to ensure the proper care and maintenance of Moon Trees across different forest regions.
Importance of Moon Trees in Education and Research
Researchers study Moon Trees to understand the effects of space travel on plant growth. This research helps scientists uncover valuable insights into how plants adapt to extreme conditions encountered during space missions.
Moon Trees serve as living examples for teaching about space exploration, biology, and environmental science. These trees provide a tangible connection between science, nature, and human exploration.
Moon Trees offer a unique opportunity for universities to incorporate hands-on learning experiences into their curriculum. By studying these trees, students can explore topics such as carbon sequestration, photosynthesis, and the interdependence between plants and their environment.
Reflecting on the Impact and Future of Moon Trees
But what does the future hold for moon trees? Will they continue to captivate us with their ethereal beauty? The answer lies in your hands.
By supporting initiatives like the Moon Tree Foundation and engaging with educational programs centered around moon trees, you can contribute to their preservation and promote scientific curiosity. Together, we can nurture a love for nature and space exploration, inspiring young minds to reach for the stars.
FAQs
How can I get a moon tree seedling?
Moon tree seedlings are not widely available for purchase due to limited supply. However, you may be able to find them through specialized nurseries or botanical gardens that participate in conservation programs.
Can I grow a moon tree from seeds?
Yes, it is possible to grow a moon tree from seeds if you have access to authentic seeds from one of the original moon trees.
Are there any benefits of having a moon tree?
Having a moon tree can serve as a symbol of humanity's achievements in space exploration and environmental conservation. These unique trees can spark conversations and inspire curiosity among friends, family, and visitors. By owning a moon tree, you become part of a small community that appreciates the intersection of science, nature, and history.
Can I visit one of the original moon trees?
Yes, some of the original moon trees can be visited at various locations across the United States. For example, there are moon trees at the Kennedy Space Center Visitor Complex in Florida and the U.S. Space & Rocket Center in Alabama. Check with these institutions or other space-related museums to see if they have a moon tree on display.
How long does it take for a moon tree to grow?
The growth rate of a moon tree is similar to its Earth-bound counterparts. Depending on the species and environmental conditions, it may take several years for a moon tree to reach maturity. However, even as young saplings, these trees carry with them a unique story that spans beyond our planet's atmosphere.
---
Here are some locations, planting dates, and species

.